Description
"Thumbless" Magazine Loader for Diamondback DB380 .380 Caliber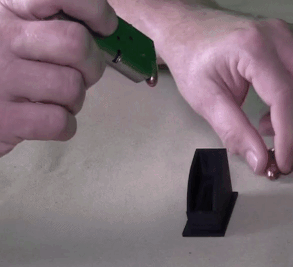 RangeTray's revolutionary and innovative new method for loading your pistol magazine
is changing the way we load our pistols! Ease of use and simplicity are what you want from a magazine loader.
Nobody wants to continually press down on something with their thumb. They don't
want to squeeze their loader either. If you don't have strong hands, if you have dexterity issues
or you really want to spend more time at the range without being limited by a simple factor
like loading your weapon, try the RangeTray "Thumbless" Magazine Speedloader.
It'll stay in your range bag & don't forget about the convenient unloader on the side!
RangeTray "Thumbless" Magazine Loaders are Patent Pending with the USPTO.
View All
Close